During an unprecedented pandemic, there is much uncertainty in the air in Los Angeles. Your rights as a parent should not be uncertain. Our experienced Los Angeles family law attorneys at Boyd Law APC are here to be of service to you during the most difficult of times. This article elucidates 10 helpful insights to be aware of during the COVID-19 pandemic.
Los Angeles Court Closures
In Los Angeles County, California many courts are taking the same precautions across California to comply with Governor Gavin Newsom's emergency public health orders to shut down with the exception of necessary business operations to help stop the spread of the COVID-19 virus. While Courts are currently closed to the public due to attempt to limit exposures and minimize strain for the general populations, courthouses are still accepting filings of new cases and motions. If you need to file for a child custody or child support order, you will get a hearing date. However, most courts currently remain open exclusively for time-sensitive, essential court hearings and matters such as ex parte requests explained in #4 below.
Child Custody Laws
If you are a parent and there are no current child custody or support orders in place, you have a right to physical custody of your child. If the other parent is refusing to let you see your child, it is best to file for a child custody order right now. Courts try to make orders that encourage frequent and continuing contact between both parents and the child because it is in the child's best interest. Yet, Courts will award more physical time or discretion to a parent to make important decisions regarding a child's health, education, and welfare if it is in that child's best interest.
Court Orders in Child Custody Cases
Once a case is filed, there are automatic temporary restraining orders in place pursuant to Family Code section 2040. This prevents either parent from leaving the State with a minor child without a court order or written agreement.
Family Code section 3020 provides that it is the public policy of California to make legal and physical custody orders to ensure the health, safety, and welfare of a child. In addition, if you are a struggling parent caring for your child, you have the option to file a motion for child support. According to Family Code section 4053, child support will be calculated based on the California guideline calculator, which takes into consideration the percentage of time each parent spends with the child and their respective incomes.
A child custody order is enforceable by the court. If the other parent does not comply with the order, it may be brought to the attention of law enforcement to enforce. Further, a motion for contempt may be filed against a parent who has brazenly not complied with the custody or support order.
Ex Parte Relief
Ex parte applications are currently being heard at most courthouses. Ex parte relief is also available to parents when there is imminent and irreparable harm threatening their custodial rights or the safety of the parent and child. Ex parte motions are very rarely granted because there must be real exigent circumstances pled in the motion. However, the motion is a very powerful tool to use to obtain immediate relief when there is a risk of abduction and domestic violence.
Regularly Noticed Hearings
If you file for ex parte and your request is denied, it is not the end-all-be-all. You may file that motion as a regularly noticed hearing and it will be heard. Furthermore, most Courts schedule a regularly noticed hearing regardless of whether the ex parte request is granted or denied. You always have the option to file a regularly noticed motion for child custody and child support as mentioned in #1 above.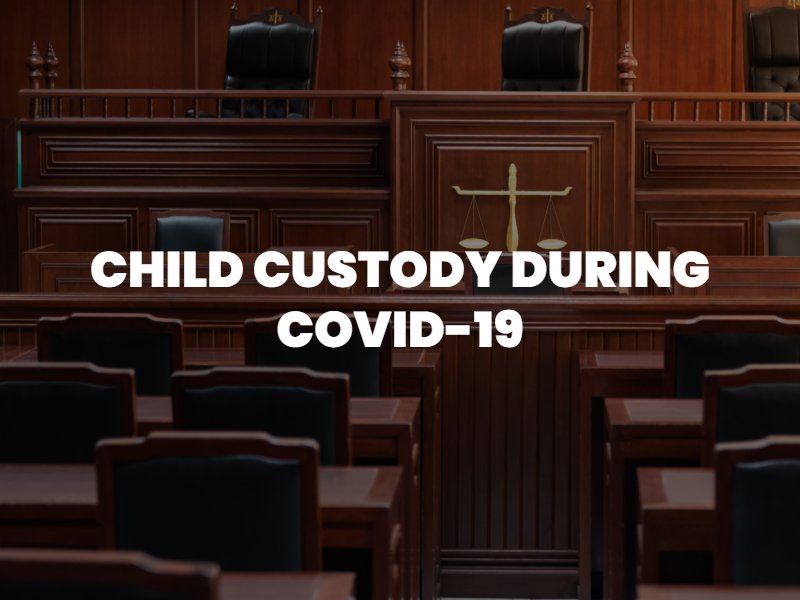 Wrongful Withholding
It is common during this time for a parent to use COVID-19 as an excuse to prevent the other parent from visiting his or her child. This is called "wrongful withholding." Current custody and visitation orders remain in full force and effect during this time. If there are no current orders, you have a right to see your child and should file a motion for custody right away.
Homeschooling
As a result of the emergency shutdown, schools have been ordered to be closed throughout the nation. Therefore, a parent should be imputed more custodial timeshare when a child would otherwise be at school. Historically, Courts have imputed the primary custodial parent time when a child would otherwise be in school such as the case in Katzberg (2004) 119 Cal.App.4th 1030 and DaSilva v. DaSilva (2004) 119 Cal. 4th 1030, 2033. This will directly affect child support orders because custodial timeshare will be increased.
Stipulations
Court orders for child custody and child support can be made outside of the Court as well. Both parents may stipulate, or agree, to child custody and child support orders remotely. The stipulation should be filed with the Court and will become a Court order once filed. Stipulations allow parties to resolve a dispute in a more cost-effective manner.
Mediation
Mediation is an option that proves to be successful. Currently, retired judges are providing remote mediation services as a third-party neutral to help parents reach an agreement regarding custody and child support. Mediation is non-binding and can be a successful alternative dispute resolution for many parents.
Can I Meet With an Attorney by Phone or Teleconference?
If you have child custody and child support needs, it is best to hire a Los Angeles family law attorney who is experienced to handle your case. Our attorneys at Boyd Law are ready to serve you during this difficult time and our attorneys are offering a quick and easy intake process during this pandemic. Whether you need an ex parte motion or regularly noticed motion, an agreement drafted, or representation during mediation, we are here to help you.