COVID-19, also called the Coronavirus, has had a substantial impact on many facets of life in Los Angeles. As the city with one of the highest counts of cases and related deaths in the US, LA has been at the forefront of changes implemented to flatten the curve and ease the effects of the virus. Many of these changes have affected the civil and criminal courts. Several key changes in the Los Angeles court system have taken place over the past month. Understanding these changes is important as someone with a claim.
Public Safety Concerns Cripple LA Courts
One of the major changes in LA and across the US are mandatory social distancing requirements to help slow the spread of COVID-19. In LA County, lawmakers issued a Safer at Home Order requiring everyone in the greater LA community to stay home except for visiting essential businesses. The county prohibited all public and private gatherings of 10 or more people. Gatherings of less than 10 people must institute social distancing measures: separation by at least six feet from other attendees. They should also make hand-washing or sanitizing stations easily available.
The Safer at Home Order interferes with trials by jury. A jury consists of 12 people – a violation of California's state and local health organization recommendations. This has led to concerns about how to achieve justice while still meeting public safety requirements. So far, LA County has discontinued jury trials and delayed all ongoing cases for the foreseeable future. In the meantime, the courts are scrambling to implement technologies that could allow them to continue processing claims virtually. Some judges have been able to issue rulings from home.
Other cases have been indefinitely suspended, creating concern over populations often left behind or overlooked in a court system that was already overwhelmed with cases before the mandatory shutdowns related to COVID-19. Many courthouses have suspended all in-person proceedings, restricted entrances into the courthouses and granted extensions for court deadlines. Many courts have reduced their operations to only essential services until at least May 1, 2020, under advisory by public health officials. Backed-up cases in an overburdened system could have a negative effect on vulnerable populations.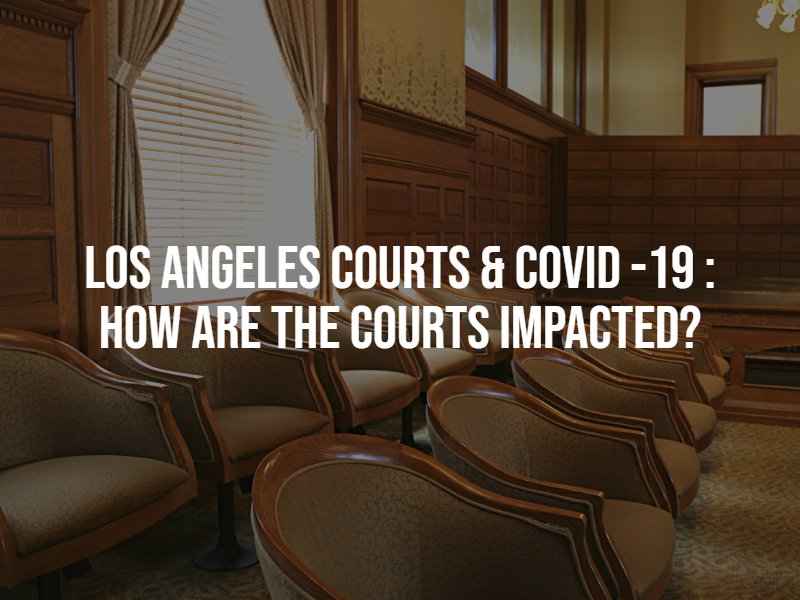 Influx of Lawsuits Related to COVID-19
On top of significant delays in case processing due to the Coronavirus, the courts in Los Angeles are also receiving an influx of new cases related to the virus. This may further overburden the justice system, causing additional delays when the courts begin taking cases again. For example, plaintiffs firms have already brought class-action lawsuits over voided contracts from acts of God. These class actions assert that COVID-19 is an act of God that led to the nonperformance of the actions promised in contracts, creating a defense to breach of contract claims. This is just one example of many new claims related to the virus.
Class action against 24-Hour Fitness for gym membership fees
Class actions against colleges for housing payments
Bankruptcy claims related to COVID-19
Virus- and quarantine-related divorce cases
Personal injury claims against employers for exposure to the virus
Business interruption insurance lawsuits
Coronavirus has already had a significant impact on LA County's courts. Experts believe the virus could continue to alter the court system, however – perhaps indefinitely – in the form of speed and efficiency reforms. While the virus is currently causing major delays and contributing to a backed-up system, many hope in the future more courts will turn to technological solutions to resolve cases rather than requiring in-person meetings. This could speed up the overall efficiency of the court systems in California and around the country in the future. To discuss how COVID-19 might impact your specific case in LA County, contact us for a free consultation.